Dani Alves and Sergio Ramos (Sevilla 2004-2005)
The 2004-05 season was a memorable one for Sevilla. Not only did they finish sixth in the league and qualify for the UEFA Euro Cup, but also fielded a bunch of young and talented footballers yielding in success. Notably, now fierce rivals Dani Alves and Sergio Ramos were part of the back four in the same team!
They formed a solid partnership at the back and went on to shackle the deadly attacking forces of Real Madrid. Their shocking 1-0 victory over Los Blancos in the reverse fixture made headlines all over the world. The two veteran defenders made a combined 85 appearances for Los Rojiblancos and kept a respectable 15 clean sheets in the process.
After a slew of impressive displays, Ramos was transferred to Real Madrid the very next season. Three seasons later, Brazilian Dani Alves made a move to Barcelona due to which the two close friends became mortal enemies.
2. Eden Hazard and Dimitri Payet (Lille 2011-12)
In the 2011-12 League 1 season, French midfielder Dimitri Payet and Belgium winger Eden Hazard played together for the Lille outfit. Possessing two of the current Premier League's most creative outfield players, Les Dogues finished third in the league with 74 points in 38 games.
Only Olivier Giroud's phenomenal individual display for Montpellier and PSG's new cash-rich owners made more news than the team from Metropole. The duo combined for a total of thirty-one goals and twenty-four assists in 49 games.
Hazard went on to win the league's 'Best Young Player' trophy and was also included in the French team of the year for that season. Although Hazard left France for Chelsea next season, Payet stayed in his home country for another three years and developed into a world class attacking midfielder.

3. Jamie Vardy and Harry Kane (Leicester City 2013)
Jamie Richard Vardy is an English professional footballer who plays as a striker for Leicester City and the England national team; Harry Edward Kane is an English professional footballer who plays as a forward for Tottenham Hotspur and the England national team.
Some headlines went viral last year; the likes of "Three years ago Harry Kane and Jamie Vardy were on the bench for Leicester, now they're England's stars". And if there's one image which sums up Harry Kane and Jamie Vardy's remarkable journey, it's the one of England's strikers sitting on the bench for Leicester during a Championship play-off semi-final at Watford.

4. Mauricio Pochettino and Ronaldinho (PSG 2001-03)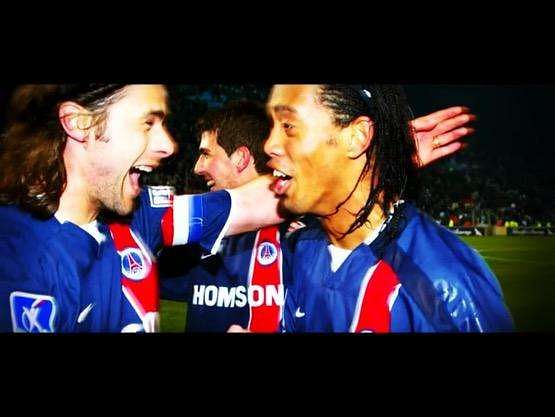 The former Barcelona midfielder and current Tottenham Hotspurs manager played together in France for PSG for two seasons (2001-2003). The centre back – attacking midfielder pairing was a match made in heaven. The two became best friends and had good chemistry on and off the pitch.
They made a combined 181 appearances for the Paris-based club, where Pochettino kept a staggering 27 clean sheets in 95 games, and Ronaldinho scored 25 and assisted 18 goals in his share of matches.
Almost at the final stages of his playing career, the Argentinian made a move to rivals Bordeaux in 2004. The Brazilian, on the other hand, secured a move to European giants FC Barcelona and went on to become one of the most loved players on the planet.

5. Mesut Ozil and Ivan Rakitic (Schalke 2007-08)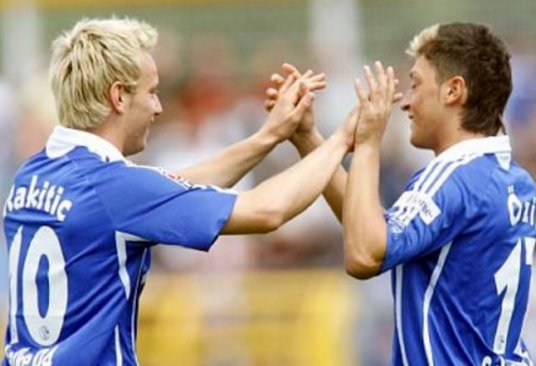 Ivan Rakitić spent four years at the German club and established himself as a first class midfielder alongside Mesut Özil who progressed through the youth academy and played for the first team between 2006 and 2008.

6. Yaya Toure and Rivaldo (Olympiakps 2005-2006)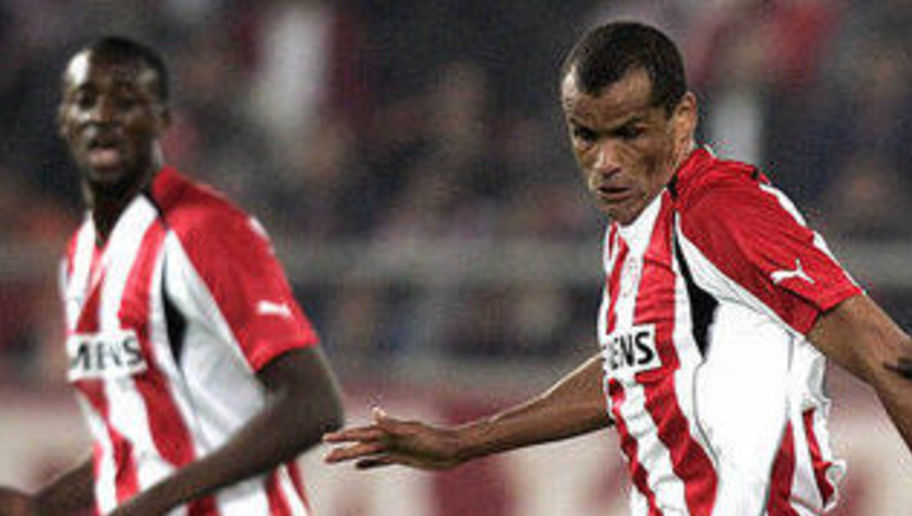 7. Matthieu Flamini and Ronaldinho (AC Milan 2008-11)
Manchester City player, Yaya Toure and the Brazilian World Cup winner, Rivaldo played together at Olympiacos. Yaya Toure joined Olympiacos in 2005 where he stayed for a year while Rivaldo played at Olympiacos for 3 years from 2004 to 2007.

8. Falcao and Alexis Sanchez (River Plate 2007-08)
Sanchez went to River Plate on loan for a year from Udinese while Falcao was a part of River Plate for 5 years from 2005 to 2009.

9. Edgar Davids and Wifred Zaha (Crystal Palace 2010)
Edgar Steven Davids is a Surinamese-born Dutch former professional footballer; Dazet Wilfried Armel Zaha is an Ivorian professional footballer who plays as a winger for Crystal Palace and the Ivory Coast national team.
On 20 August 2010, Davids agreed a pay-as-you-play deal with Crystal Palace. On 8 November 2010, he announced his departure from the club. The 44-year-old played with Zaha for a short period of time that it was hard to notice.

10. David Beckham and David Moyes (Preston North End 1994-95)
Yes, amazingly Moysie and Becks actually played together at Preston during the 1994–95 season while the young midfielder was on loan from Manchester United – who Moyes would later manage.
In his second of two goals for Preston – the first coming directly from a corner on his debut – Beckham scored what would become a trademark freekick against Fulham.
"It was the classic Beckham free-kick, over the wall," recalls Kevin McGuinness, photographer for the Lancashire Evening Post. "I couldn't believe what I was seeing. David Moyes nearly squashed him in the celebration."